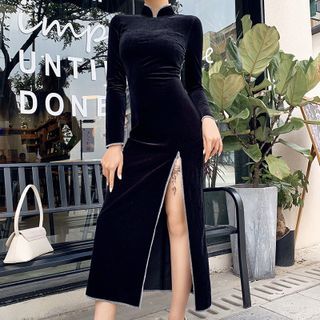 Mandarin Collar Slit Midi Bodycon Dress
The Mandarin collar gives a sophisticated look, covers the beautiful neck and diverts attention from the thigh exposed by the slit. One may choose a matching garter to accentuate the sexy thigh.
Maybe it is not politically correct but it is a fact. Far east women (Oriental) women are some of the prettiest women in the world. Their dress is fantastic as it usually is a very sophisticated, but very sexy, look. Very feminine.
Beautiful Women. Tantalizing teaser dress.
A woman's legs are noticed almost as much as the breasts. This dress has an mid calf length hem. The slit opens the dress when the wearer is walking which gives excellent views of the leg. The thigh is exposed by the long slit. The wearer is admired by all. Everyone is happy.
We have additional black slit dresses on display [CLICK HERE)
Slit Black Dress
.
.