We wish to introduce you to Nude Panties. Sophisticated sexy panties.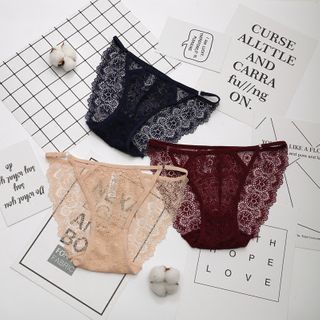 Sheer Lace Panties
Joana Nude Panties
Joan Brief Nude PantiesLace 'V' Cut, Low Rise Panties 92% Polyester, 8% Spandex.
Style: clothing-undergarment-bewicked-1160nude
Cause a stir this season in delicate yet decadent nude lace panties. This striking brief is made from mink-colored microfibre in an ultra-fine, lightweight finish, trimmed with soft black cire elastic in a wet-look finish to contrast the nude base. The black elastic straps sweep across the base and cross over in a striking, graphic effect, with a cutaway effect at both the front and rear for a mischievous touch. The smooth line finish makes the Joan lingerie set a great choice to wear under tight clothing.
.
Sheer panties are very popular. Wife shops has a display of many brands and styles.
Click here for sheer panties.
.

Fire Inside – Sheer Mesh Thong Panty
Fire Inside – Sheer Mesh Thong Panty. Nearly nude and light as a whisper. Our sheer chiffon is a simple, sexy and elegant panty you can wear every day. It's your romantic secret to be revealed at those intimate moments. Or else match it with a sexy open cup bra and some high heels for a unique sexy lingerie effect. The delicate yet intense colors will make you feel oh so sexy. We recommend that you get several pair of these panties in each color so you will always have some ready to match your mood. Colors Devil Red, Violet Violation, Midnight Black and Hot Pink. Four way stretch means one size fits most. Better Than Nude. 90% Nylon/10% Spandex.
Skin tone and sheer lingerie is beautiful and very fitting for the sophisticated woman.
Sheer lace panties matched to the almost skin color creates the sensation of no panties at all. The next stage is to go commando.
Actually a little lace creates a more sexy appearance than going commando.
Panties are also a little more comfortable.
.
Joana Nude Panties

Kiera Panties 3 Pack
Regular rise brief cut panties with lightweight lace.(Pack of three) On HANGER & BE WICKED HAND TAG.
Blue lace panties. Cut to fit the perfectly rounded buttocks. Can be worn with any cut dress. Material is comfortable and very sexy.
Joana Nude Panties
.
.